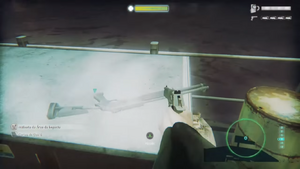 The Benelli M4 Tactical Shotgun is a semi automatic shotgun.
The Benelli M4 Tactical Shotgun can be found on a ship docked in the docks outside the tower of London behind a scan-hack gate.
Characteristics
Edit
The Benelli M4 Tactical Shotgun has the highest magazine capacity of any shotgun in the game, however since it's semi automatic it doesn't have the same accuracy or power as the other shotguns in the game, requiring you to be a point blank range for a headshot.
Since the shotgun can only be obtained later on in the game the other shotguns are more useful for most of the game. Due to their longer range and ability to get headshots at longer ranges.
The same weapon appears in the popular Left 4 Dead video games. Which involved killing Zombies as you make your way to a Safe house.