SA80

Royal Guard swinging a SA80 with a bayonet.

Weapon Type(s)

Ranged, Gun

Damage

???

Reload Time

4 seconds

Noise

???

Maximum Ammo

45/slot

Magazine Capacity

30 (45 w/ Capacity Upgrade)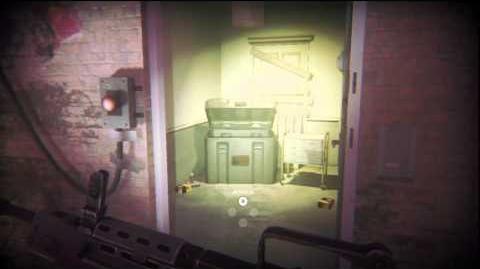 The SA80 is a British made Assault rifle featured in ZombiU. The SA80 fires the 5.56x45mm NATO round and has been standard issue since 1987 and has remained in service.
The SA80 can be found at St George's church. When you're ambushed by a group of savages that think putting you through a sick kind of game show is fun, they put you in a fight to the death with the infected. After you press the "Fun Button" and kill the remaining infected, your BOB will be in the area the infected came out of. Then, after you retrieve your BOB, there is a padlock door, and inside will be a mounted SA80, machine gun ammo, and a box with your BOB equipment and supplies.
Ad blocker interference detected!
Wikia is a free-to-use site that makes money from advertising. We have a modified experience for viewers using ad blockers

Wikia is not accessible if you've made further modifications. Remove the custom ad blocker rule(s) and the page will load as expected.